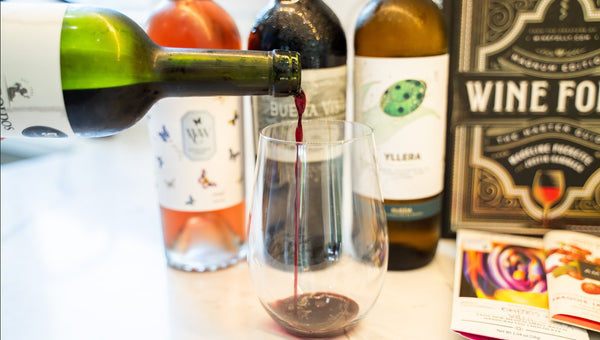 Private Virtual Wine and Chocolate Tasting Events | Book a Virtual Chocolate and Wine Tasting | Virtual Team Building Experiences | Virtual Corporate Wine Events | Best Virtual Event Ideas 2023 | Corporate Team Building Ideas
Our virtual wine and chocolate tastings and events are customized to your needs! 
Who hosts our Virtual Events and Tastings?
Virtual Wine and Chocolate Tastings are hosted by Anya Zelfond, Craft Chocolate & Food Educator, and her team of food educators, who have been in the gourmet food and craft chocolate industry for over 18+ years! Our reviews speak to our passion for chocolate and virtual experiences that are unique and entertaining. 
What is the cost?
Our wine and chocolate tastings start as little as $99 per person shipped with a 12-kit minimum and no speaking fee above 12-kits.  We have several themes (bottom of this page) ranging from $99 to $199.99.  We can accommodate teams under 12 with a $250 speaking fee, or you can purchase any of our kits for a self-guided tasting. 
How do we curate our tasting menu and themes? 
Tasting and event themes feature carefully curated menu options for you to choose from. Craft chocolate bars and wine pairings are selected for your group to fit a specific theme and budget.  
What happens on the day of the virtual event?  
You will experience a 45-minute to 1-hour chocolate-tasting session on Zoom.  The event engages the audience with superb storytelling about the makers, the industry, and the art of "flavor."  You will also learn an entertaining history of chocolate and how it's made and learn about the chocolate makers and how to taste chocolate. 
Do you do in-person or hybrid events? 
We can travel to your corporate office in the continental US to offer our tastings in person.  Please contact us for pricing and details. 
Have a special request or want to customize?
Select from one of our virtual chocolate event themes below, chat with us to discuss your event, or call (781) 367-5629 to speak directly with us.   We'll work around your date/time preferences and ensure a fantastic experience for your virtual event or team-building experience!
Do we ship internationally and is US shipping included?
Yes! All US domestic shipping is included in the price of the kits. We also ship to Canada and Europe at additional cost.  We do not ship wine internationally - only chocolate.  
What makes us different?
1. Our educators have over 40 years of combined experience.  
2.  Our 4.9-star Google reviews (over 150 of them!)
3.  We don't just provide samples - each kit includes factory-sealed chocolate bars!  You can share them with your family and conduct your own tasting after our events! You will have plenty of food trivia and engaging foodie knowledge to showcase