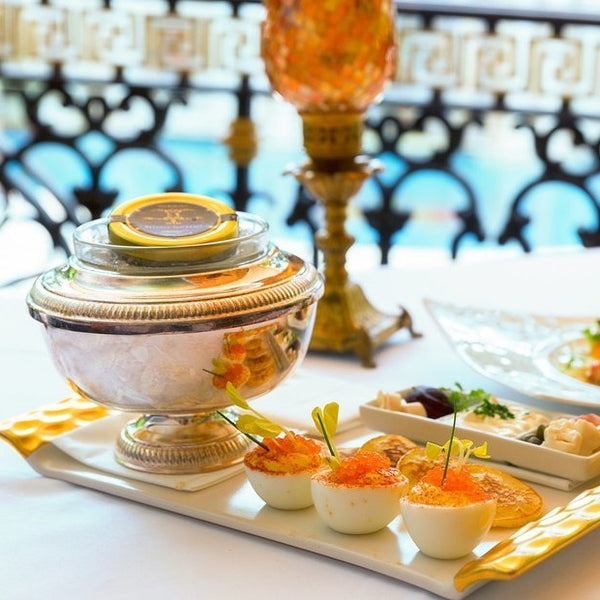 Virtual Caviar Tasting: The "Caviars of the World" Experience (Overnight Shipping Included)
As most Americans are still sheltering in place, Gourmet Boutique is bringing a little bit of luxury to your home with a Virtual Caviar Tasting.  Join us to learn about the  "Caviars of the World" through storytelling and entertaining food education. 
What is included? (10 kit minimum purchase required) 
White Sturgeon (Royal) by Dom Petroff of Petrossian Paris
Kaluga Hybrid (Daurenski) Caviar by Dom Petroff of Petrossian Paris
Siberian Sturgeon (Baeri) by Dom Petroff of Petrossian Paris
Blini - 16 PC
Overnight Shipping
45 Minute Educational Storytelling Session By Anya Zelfond - Caviar Expert and Food Educator
How does it work?
1.  Purchase the "Caviars of the World" tasting kit.  We will ship the Caviar overnight to each recipient.
2.  We will email you Zoom login information for the date/time of your choice and then will guide you through a 45 minute tasting experience.
Notes: One week lead time required for the event

Where does our Caviar come from?
Gourmet Boutique works closely with producers Dom Petroff/Petrossian of Paris and Black River Caviar of Uruguay to ensure the quality and integrity of our caviar. The caviar is sourced from sourced from eco-friendly farms throughout the world (France, Bulgaria, Israel, Poland, USA and Uruguay). 
Why Sustainably Harvested Caviar?
We love caviar and would like to contribute to the world wide effort of insuring this prehistoric fish, which Charles Darwin called a "living artifact" will thrive for many generations to come. Enjoying sustainably harvested caviar will help in allowing the fish to rebuild their stocks in the wild.
Who hosts our Virtual Caviar Events and Tastings?
Virtual Caviar Tastings are hosted by Anya Zelfond, Caviar Expert and Food Educator, and her team of expert educators each of who have been in the gourmet food and caviar industry for over 15+ years! Our reviews speak to our passion for unique and entertaining virtual events. Our Virtual Caviar Tastings are perfect for team building, corporate client events, or festive family occasions.  We can also incorporate Wine or Champaign for a truly special event. 
What happens on the day of the Virtual Caviar Experience?
The tastings range from forty five minutes to an hour.  With storytelling by Anya about the origins of caviar, the industry, and "flavor vs taste", the event is super engaging and entertaining.