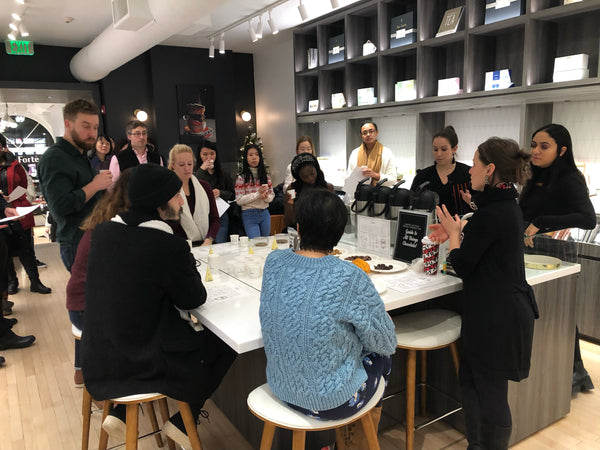 In Person Corporate Chocolate Tastings | Team Building Wine and Chocolate Tastings | Tea and Chocolate Tastings | Team Building Experiences | Executive Briefings | Best Event Ideas 2023
In-Person | Virtual | Hybrid Corporate Events

These tasting sessions offer a unique, highly engaging activity for private corporate team-building events and can be scaled for large, executive team-building engagements or small intimate customer gatherings.  Our seasoned team of food educators is happy to travel to your chosen location. We want your in-person experience to feel special and meaningful to you and your guests. Past sessions have been hosted on private yachts, holiday retreats, roof-top gardens, and green office space. We look forward to learning more about your event hosting needs and creating a unique and delicious tasting experience whether you are hosting an executive briefing or looking to reward your staff with a surprise chocolate and foodie happy hour. Our team of food and wine educators works hard to create a distinctive, highly customizable, fun, and engaging experience for all our clients.  We had the pleasure of working with some of Fortune 50 top names such as Google, Amazon, Microsoft, PWC, Deloitte, Nestle, IBM, Facebook, and Goldman Sachs to name a few. 
The events are designed to ensure a high level of engagement among the guests through blind tasting exercises, flavor exploration, and a variety of tasting activities to choose from in addition to the selection of ethically sourced and sustainably harvested chocolates and other foodie indulgences.

Guests leave the events with a sense of foodie euphoria, a bit of foodie history, travel, and culture to show off at the next dinner party. The menu for each event is skillfully selected and can be paired with wine, coffee, sake, whiskey, tea, and coffee
To Book an In Person
Step 1: Select the Date/Time/Venue
Step 2: Select Desired Outcome so we can curate the experience! (e.g. Giving Back, Relationship Building & Networking, Executive Briefing, Key Note Events, and Client Engagement)
Step 3:  Select from one of the themes below incorporating chocolate, chocolate and tea, coffee, and wine.  We are also happy to customize the experience.  Purchase the kits and get ready for a fun, engaging, and entertaining hour.
What is the cost?
The pricing is simply the cost of the themed kit (priced per person) and the travel expenses.   Call (781) 367 5629, or chat to discuss your event!
What makes us different?
1. Our educators have over 40 years of combined experience.  
2.  Our 4.9-star Google reviews (over 100 of them!)
3.  We don't just provide samples - each kit includes factory-sealed chocolate bars!  You can bring them home to your family and conduct your own tasting after our events! You will have plenty of food trivia and engaging foodie knowledge to showcase.
We can't wait to share the rich landscape of artisanal and craft foods with you and your guests!