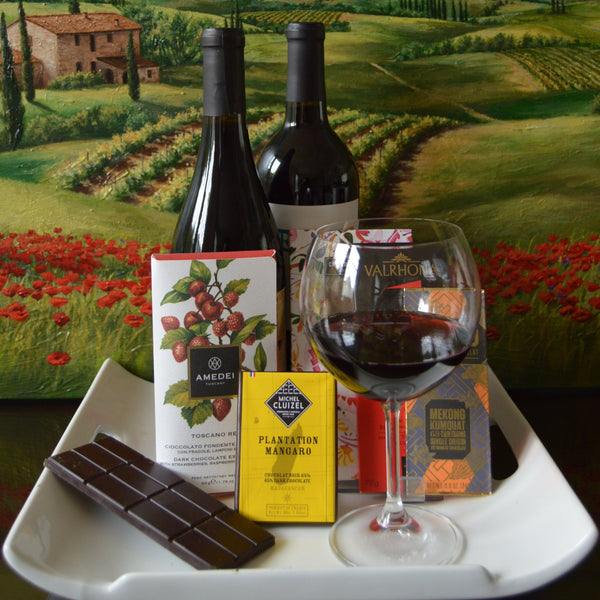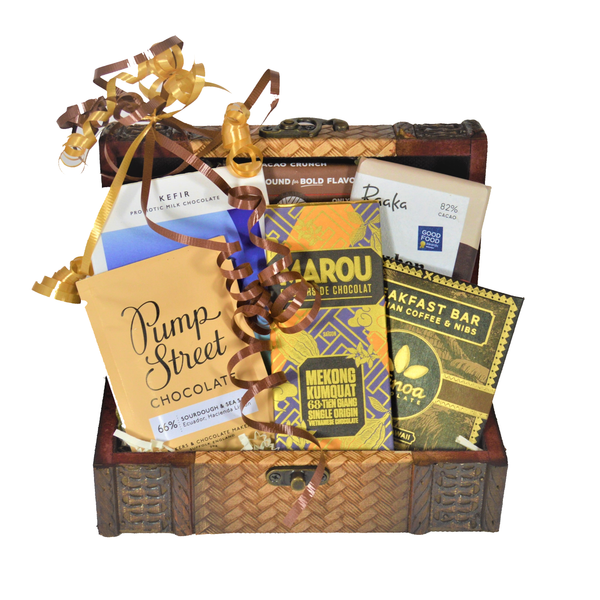 Virtual Wine and Chocolate Tasting Experience: Wines and Craft Chocolatiers of the World in a Gift Trunk (6 Craft Bars | 2 Bottles of Wine | Ground Shipping)
In our newest offering, we wanted to share our favorite wines and chocolate pairings worldwide.  South America and France are represented by wine, while Europe and the US are represented by chocolate.  This is a truly international experience! 

Enjoy a gorgeous, delicious Argentina Red and a French Rose from our premium wine collection partner, paired with carefully curated craft chocolate for a fun and engaging tasting experience!

What's Included?
1 Bottle of Crépuscule Coteaux d'Aix-en-Provence Rosé 2020 (France)
1 Bottle of 91 Pt. Los Haroldos Reserva Malbec Uco Valley Mendoza 2017 (Argentina)
6 Craft Chocolate Bars in a Keepsake Gift Trunk carefully curated to pair with the wines (20g-50g each)
Tasting mat
Activities to promote audience engagement through sensory exploration (materials included)
A ten-dollar gift card to www.gourmetboutique.net
1-hour education by a Gourmet Boutique Food Educators/Sommeliers included for guests over 12 kits at no additional charge
Ground Shipping is included for Wine/Chocolate
Please note all wine is shipped directly from the wineries.  Please allow for two weeks to receive your kits before the date of the tasting. 
Which states can wines be shipped to?