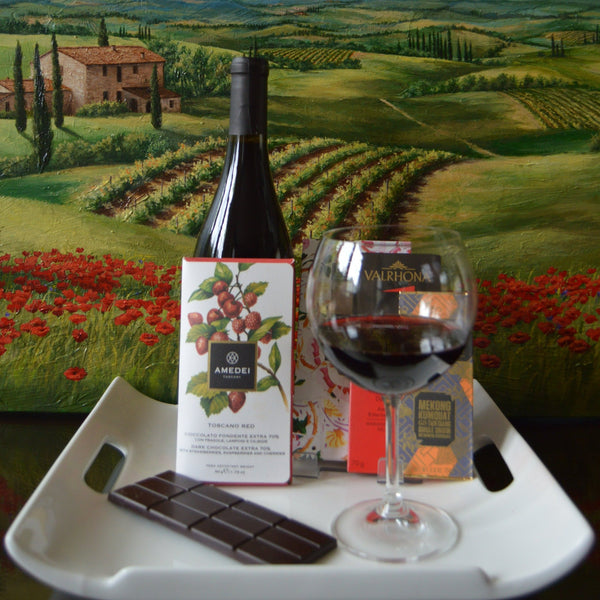 Virtual Tasting Experience: Wine, Cheese & Chocolate Culinary Delight (3 Cheeses | 2 Chocolate Bars | 1 Bottle of Red | Confit | Shipping Included)
Chocolate, cheese, and wine anyone? Who would have guessed that two wildly different food groups could unite for a delightful and imaginative flavor combination? Done right chocolate and cheese can come together to form an extraordinary treat. Gather with your teammates for a sublime tasting experience custom-curated around global cheese offerings, its complimenting sidekicks (confit/honey/crackers), and craft chocolate for a pairing that will delight seasoned foodies and novices alike.  Top it off with a great Sonoma red!
What's included?
3 Global Cheese Offerings (.3-.4lb each)
Gourmet Crackers
Honey/Confit
2 Craft Chocolate Bars are carefully curated (20g-50g each depending on the craft maker).
1 Bottle of Sonoma Red Wine 
45-minute to 1-hour education session (by a Gourmet Boutique Food Educator)

 

included for over 12 kits

 

at no additional charge.  
Two-Day Air/Warm Weather Shipping Included
How does it work?
1.  Purchase the tasting kit.
2.  Contact us to select a time/date.  We have five educators on staff and can accommodate the majority of requests. 
3.  We will email you a Zoom login, or you can provide your Teams/Webex link.  Join, and we will guide you through a one-hour tasting experience sharing a bit of history about each craft maker, incorporating storytelling, humor, and audience engagement.  Our educators have over 15 years of experience and are food entertainment and team-building experts! 

Notes: Please allow one week to receive your kits before the tasting date.  The education tasting is about 45 minutes.  The quick ship program is also available at an additional cost (2-3 days lead time to host an event).