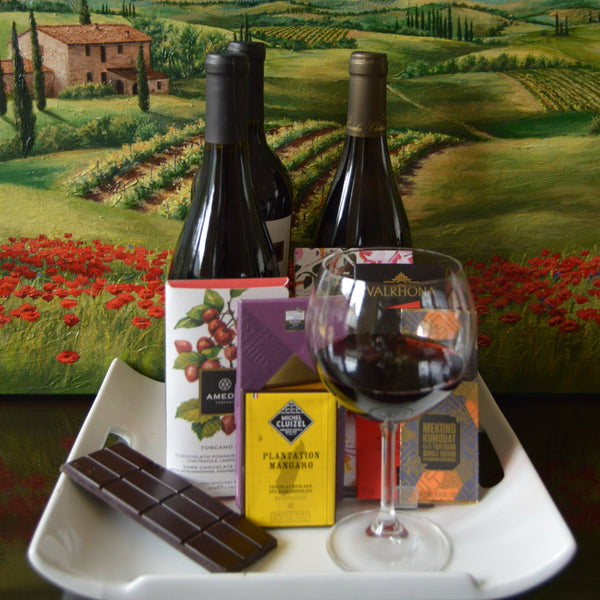 Virtual Wine and Chocolate Tasting Experience: The Ultimate Collection (5 Craft Bars | 3 Bottles of Wine | Ground Shipping)
Gourmet Boutique brings a little luxury to your team event with virtual wine and chocolate tasting. 

Enjoy a gorgeous Alexander Valley Viognier, delicious California Red Blend, and a Petite Sirah from our critically acclaimed, premium wine collection partner, paired with carefully curated craft chocolate for a fun and engaging tasting experience. 

What's Included?
1 Bottle of premium Alexander Valley Viognier from Sonoma County
1 Bottle of premium California Red Blend
1 Bottle of premium Petite Sirah or Tuscany Chianti
5 Craft Chocolate Bars carefully curated to pair with the wines (20g-80g each)
Tasting mat
Activities to promote audience engagement through sensory exploration (materials included)
A ten-dollar gift card to www.gourmetboutique.net
1-hour education by a Gourmet Boutique Food Educators/Sommeliers included for groups purchasing over 12 kits at no additional charge
Ground Shipping is included for Wine/Chocolate
Please note all wine is shipped directly from the wineries.  Please allow for two weeks to receive your kits before the date of the tasting. 
Viognier Tasting Notes:
Our 2019 Viognier opens with honeysuckle and Mandarin orange aromas. Crisp and refreshing, flavors of lime and lemon zest mingle with peach and apricot notes of orange blossom. This is a well-balanced wine with a touch of minerality on the finish.
Red Blend Tasting Notes:
Our  2019  California  Red  Wine is filled with aromas of star anise,  cherry,  raspberry, and notes of white pepper.  Blackberry and strawberry flavors coat the palate with complements of licorice and cola. This is a well-balanced wine with smooth tannins and a lingering finish.  
Petite Sirah History:
One of California's first sheriffs, Agoston Haraszthy was elected the Sheriff of San Diego County in 1850. He built the first jail and served two exciting years before moving north to pursue "purple gold" and the perfect terroir for fine wines. He found it in Sonoma County where he established Buena Vista Winery in 1857.
Which states can wines be shipped?