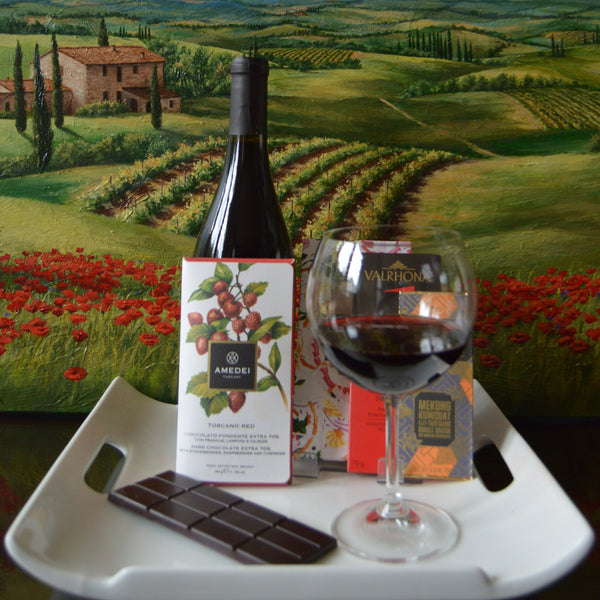 Virtual Family Wine and Chocolate Tasting Experience: Wines and Craft Chocolatiers of the World Discovery Event (5 Craft Bars | 2 Bottles of Wine | Ground Shipping)
Gourmet Boutique is super excited to introduce our latest Virtual Experience theme geared towards bringing families together! 
In our newest offering, we wanted to share our favorite wines and chocolate pairings from around the world.  South America and France are represented with the wine, while Europe and the US are represented by chocolate.  This is a truly international experience! 

What's Included?
1 Bottle of Crépuscule Coteaux d'Aix-en-Provence Rosé 2020 (France)
1 Bottle of 91 Pt. Los Haroldos Reserva Malbec Uco Valley Mendoza 2017 (Argentina)
5 Craft Chocolate Bars carefully curated to pair with the wines (20g-50g each)
Tasting mat
Activities to promote audience engagement through sensory exploration (materials included)
Ten dollar gift card to www.gourmetboutique.net
45 minute to 1-hour education session (by a Gourmet Boutique Food Educator)

 

included.   Scheduled at a mutually convenient time post-purchase.
2-Day UPS shipping is included for

 

1 Family Address.  
Note: Please note this event ships to 1 address AND is recommended for a family of 2-4
Want to add another family address?
Each additional family kit can be purchased for $129.99 which is sufficient for a family of 2-4.  A $399.99 kit is required for a $129.99 add-on purchase.  Please purchase by adding

 

this kit

 

to your cart.
Please purchase each additional Family Kit using this link
Which states can wines be shipped?

What types of wine are included?
The wines are sourced from our partners at Wines Til Sold Out (WTSO). As a pioneer of online wine flash sales, WTSO is able to bring the best price for high-quality picks — and pass those savings onto you! Together, we work to curate the perfect wine pairing with your choice of craft chocolates and foods for an unforgettable experience.