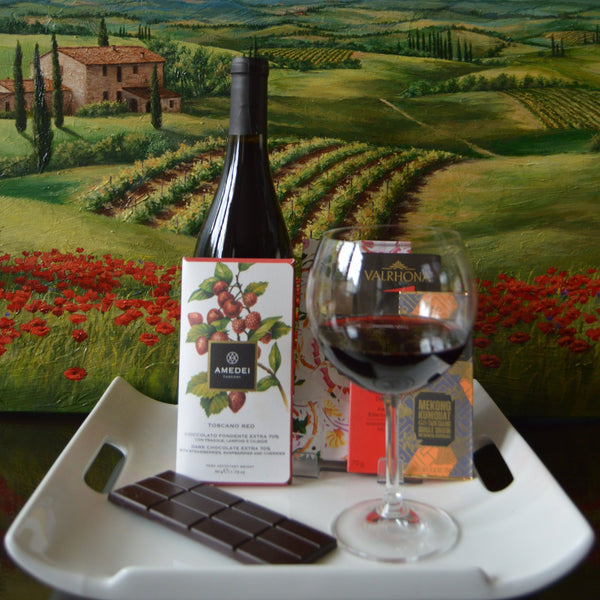 Virtual Family Wine and Chocolate Tasting Experience: Wines and Craft Chocolatiers of the World Discovery Event - ADDITIONAL ADD ON FAMILY KIT
What's included in this 1 family add-on kit?
1 Bottle of Crépuscule Coteaux d'Aix-en-Provence Rosé 2020 (France)
1 Bottle of 91 Pt. Los Haroldos Reserva Malbec Uco Valley Mendoza 2017 (Argentina)
5 Craft Chocolate Bars carefully curated to pair with the wines (20g-50g each)
Tasting mat
Activities to promote audience engagement through sensory exploration (materials included)
Ten dollar gift card to www.gourmetboutique.net
45 minute to 1-hour education session (by a Gourmet Boutique Food Educator)

 

included.   Scheduled at a mutually convenient time post-purchase.
2-Day UPS shipping is included for

 

1 Family Address.  
Note: Please note this event ships to 1 address AND is recommended for a family of 2-4
Which states can wines be shipped?

What types of wine are included?
The wines are sourced from our partners at Wines Til Sold Out (WTSO). As a pioneer of online wine flash sales, WTSO is able to bring the best price for high-quality picks — and pass those savings onto you! Together, we work to curate the perfect wine pairing with your choice of craft chocolates and foods for an unforgettable experience.