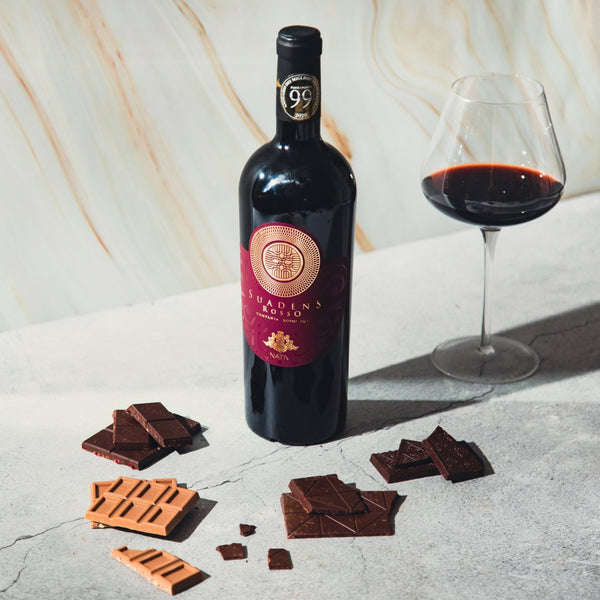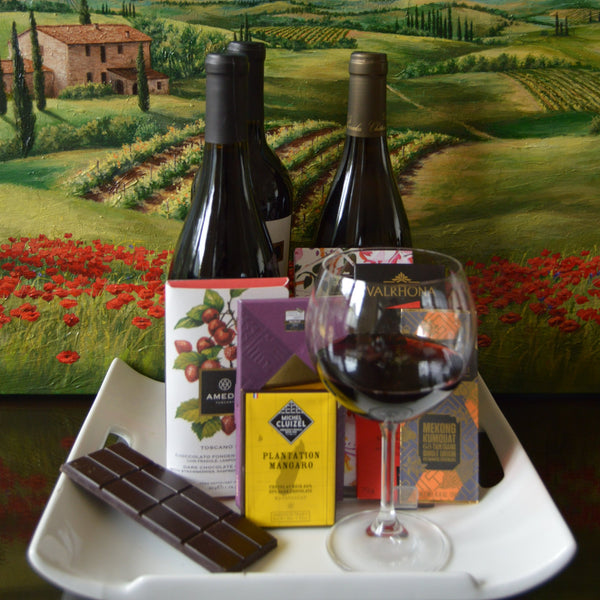 Virtual Wine and Chocolate Tasting Experience: The Ultimate Holiday Experience (5 Craft Bars | 4 Bottles of Wine | Ground Shipping)
Gourmet Boutique is bringing the Ultimate Holiday Experience together for a four-bottle AND 4 Craft Chocolate Tasting. Hosted by our team of Sommeliers - you will not want to miss this experience!

What's Included?
4 Bottles of wine (see below for exact wine description)
5 Craft Chocolate Bars carefully curated to pair with the wines (20g-80g each)
Tasting mat
Activities to promote audience engagement through sensory exploration (materials included)
A ten-dollar gift card to www.gourmetboutique.net
1-hour education by a Gourmet Boutique Food Educators/Sommeliers included for guests over 12 kits at no additional charge
Ground Shipping is included for Wine/Chocolate
Please note all wine is shipped directly from the wineries.  Please allow for two weeks to receive your kits before the date of the tasting. 
Which wine is included? (1 of each below)
Corte Grande Valpolicella Ripasso Classico Superiore 2018: The ripasso technique turns the weight and flavor of Valpolicella up a notch by giving wines contact with the dried grape skins remaining after Amarone production. Corte Grande's 2018 Classico Superiore bottling delivers an outstanding example of the style, melding lush red fruit, velvety tannins, and seamlessly integrated oak-spice accents.

Nativ Suadens Rosso 2018 Campania Italy: Italy's beautiful south is replete with wines of strong personality and traditional sensibility. Composed from indigenous Campagnian varieties, Nativ's 2018 'Suadens' balances dark fruit flavors, fine-grained tannins, and lively acidity. Creme de framboise and cardamom scents lead to cassis and fig paste flavors through the lengthy, supple finish.

Cantine Paradiso Posta Piana Negroamaro 2018: Cantine Paradiso's elevated 'pergola' system defends their Negroamaro vines against Puglia's intense heat, allowing Mediterranean breezes underneath and shielding the ripening fruit from direct sun. Success is measured in a glass of 2018 'Posta Piana' - a wine that brims with elderberry syrup and pastry crust aromas while delivering a smooth package of blue and blackberry through the palate.

Vecchia Cantina Poggio Stella Cortona Merlot 2019: Vecchia Cantina harvests Merlot from picturesque Cortona to craft their 2019 'Poggio Stella,' a medium-bodied and highly perfumed Tuscan red. Its lively blue and blackberry pie aromas preview a juicy damson plum and currant preserve finish.
Which states can wines be shipped?