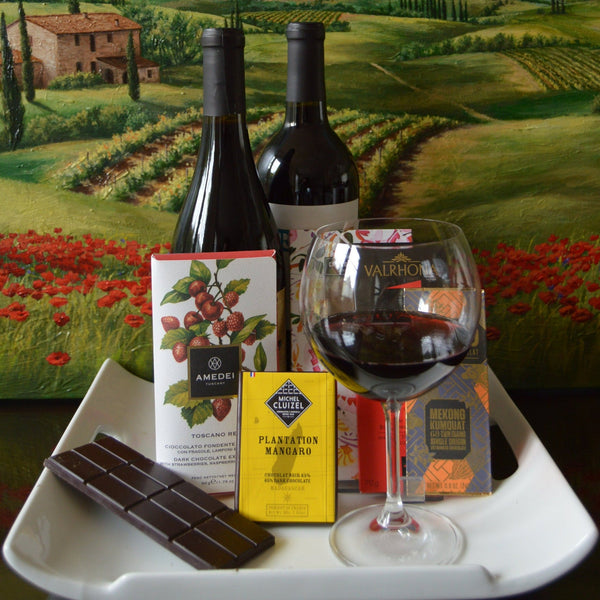 Virtual Tasting Experience: Wine, Cheese & Chocolate Culinary Delux (3 Cheeses | 3 Chocolate Bars | 2 Bottles of Wine | Shipping Included)
Chocolate, cheese, and wine anyone?
Who would have guessed that two wildly different food groups could unite for a delightful and imaginative flavor combination? Done right chocolate and cheese can come together to form an extraordinary treat. Gather with your teammates for a sublime tasting experience custom-curated around global cheese offerings, its complimenting sidekicks (confit/honey/crackers anyone), and of course craft chocolate for a pairing that will delight seasoned foodies and novices alike.  Top it off with a great Sonoma red!
What's included?
3 Global Cheese Offerings (.3-.4lb each)
Gourmet Crackers
3 Craft Chocolate Bars carefully curated (20g-50g each depending on the craft maker)
2 Bottles of Sonoma Red and White
Tasting mat
Activities to promote audience engagement through sensory exploration (materials included)
A ten-dollar gift card to www.gourmetboutique.net
60 minute - education session (by a Gourmet Boutique Food Educator)

 

included for over 15 kits

 

at no additional charge
Two-Day Air/Warm Weather Shipping Included
How does it work?
1.  Purchase the tasting kit.
2.  Contact us to select a time/date.  We have five educators on staff and can accommodate the majority of requests. 
3.  We will email you a Zoom login, or you can provide your Teams/Webex link.  Join, and we will guide you through a one-hour tasting experience sharing a bit of history about each craft maker, incorporate storytelling, humor, and audience engagement.  Our educators have over 15 years of experience and are food entertainment and team-building experts! 

Notes: Please allow one week to receive your kits before the tasting date.  The education tasting is about 45 minutes.  Quick ship program is also available at an additional cost (2-3 days lead time to host an event).