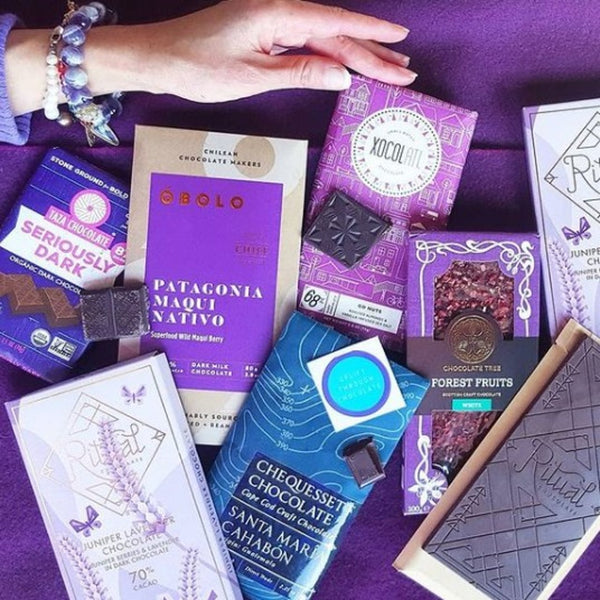 Virtual Chocolate Tasting: Welcome to Boston! (5 Bars | Shipping Included)
Welcome to Boston! In our newest chocolate tasting experience, we want to bring things back to our hometown of Boston. After all, it was Boston (well Lower Mills section of Dorchester) that gave rise to America's first chocolate enterprise more than 200 years ago. With a seasoned chocolate sommelier as your guide, we invite you on this sweet and indulgent virtual tasting adventure. Infused with a bit of food history, trivia, and highly engaging tasting activities you and your guests will leave this tasting with a lot of chocolate-induced laughs and smiles and a bit of food knowledge to showcase at your next social gathering. Featuring four locally sourced beans to bar makers the package allows a wide lens of the current chocolate world with a nod both to its rich history and an even richer present/future. What president had a side hustle selling chocolate? Join us for this fun and engaging hour to find out more.
What's included?
5 Craft Chocolate Bars carefully curated from Boston makers (20g-80g each depending on the craft maker)
Tasting mat
Activities to promote audience engagement through sensory exploration (materials included)
A ten-dollar gift card to www.gourmetboutique.net

45-minute to 1-hour education session (by a Gourmet Boutique Food Educator)

 

included for over 12 kits

 

at no additional charge
Ground Shipping is included
How does it work?
1.  Purchase the tasting kit.
2.  Contact us to select a time/date.  We have 5 educators on staff and can accommodate the majority of requests. 
3.  We will email you a Zoom login or you can provide your Teams/Webex link.  Join, and we will guide you through a one-hour tasting experience sharing a bit of history about each craft maker, incorporating storytelling, humor, and audience engagement.  Our educators have over 15 years of experience and are food entertainment and team-building experts! 

Notes: Please allow one week to receive your kits before the tasting date.  The education tasting is about 45 minutes.  The quick ship program is also available at an additional cost (2-3 days lead time to host an event).