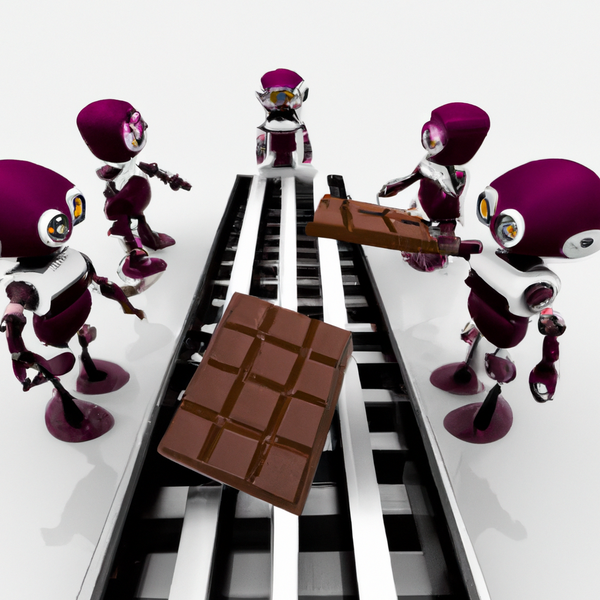 Virtual Chocolate Tasting: AI Meets Chocolate - Ancient Decadence Meets Futuristic Brilliance (4 Bars | Shipping Included)
AI is a major talking point everywhere, both in the business world and beyond. With our passion for chocolate, we began to wonder: what if we combined AI with chocolate to create something extraordinary? Welcome to our latest chocolate-tasting experience, generated with the help of AI. During this 30-minute guided tasting, we'll delve into the history of our beloved food group, chocolate, and then, through the shared experience of tasting, explore the potential applications of AI in the world of chocolate and culinary arts. We'll even ask Chef Watson to suggest the future trends in chocolate. While we may never find out if Oompa-Loompas were robots or AI-driven, this adventure offers a delightful and insightful exploration of AI's role in the world of chocolate. It's a perfect opportunity for AI companies to gather both prospective and current clients for a tech-savvy and delectable discussion on all things related to technology and chocolate.
Image Credits: Image Created by Generative AI - HOW COOL IS THAT???
What's included?
4 Craft Chocolate Bars carefully curated by Generative AI (20g-80g each depending on the craft maker) 
Tasting mat
Activities to promote audience engagement through sensory exploration (materials included)
A ten-dollar gift card to www.gourmetboutique.net

45-minute to 1-hour education session (by a Gourmet Boutique Food Educator)

 

included for over 12 kits purchased

 

at no additional charge
Ground Shipping is included
How does it work?
1.  Purchase the tasting kit.
2.  Contact us to select a time/date.  We have five educators on staff and can accommodate the majority of requests. 
3.  We will email you a Zoom login, or you can provide your Teams/Webex link.  Join, and we will guide you through a one-hour tasting experience sharing a bit of history about each craft maker, incorporating storytelling, humor, and audience engagement.  Our educators have over 15 years of experience and are food entertainment and team-building experts! 

Notes: Please allow one week to receive your kits before the tasting date.  The education tasting is about 45 minutes.  The quick ship program is also available at an additional cost (2-3 days lead time to host an event).