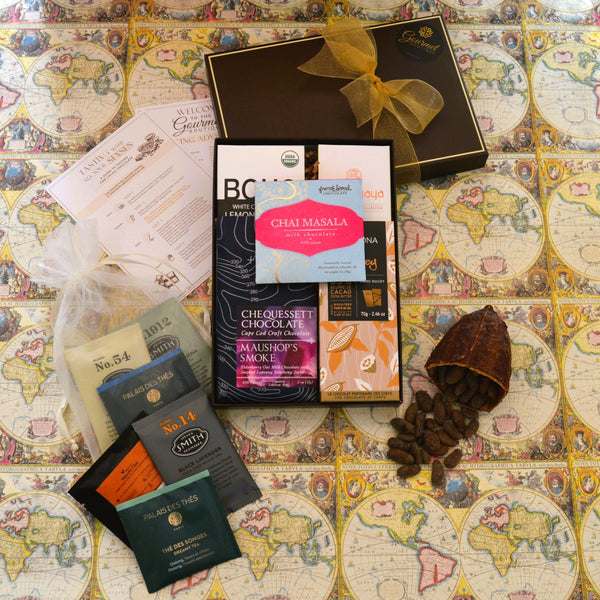 Tea and Chocolate Pairing Collection (5 Bars | 6 Teas | Self Guided Tasting Guide)
This gift collection is inspired by countless tea and chocolate pairing experiences we hosted for both our Fortune 50 clients and private team and family gatherings. A collection of full leaf teas samples from world-renowned tea houses paired with an international portfolio of chocolate makers allows guests to pair and discover new tasting experiences. This unparalleled taste experience will calm the mind and enlighten the palate with new flavor combinations within.

What's included?

5 Craft Chocolate Bars
6 Teas

Self-Guided Tasting Tasting Guide
Gift Box
Why Gourmet Boutique for Corporate Gifts?
Whether you are sending a single gift or 100+ shipments nationwide we would love to help you create a thoughtful gift for each recipient on your list. Our gift concierges are pros at creating custom gift solutions that will delight and surprise the recipient while matching your budget. We also offer a selection of treats that fit gluten-free, vegan and Kosher diets as well as some nut-free options.
Looking for an interactive gift that will stay in the minds of your recipients longer than the consumed deliciousness of a gift basket? Our team of food and wine educators are available to create a memorable experience for you and your guests.
Click here to learn about our virtual and in-person tasting events and experiences.