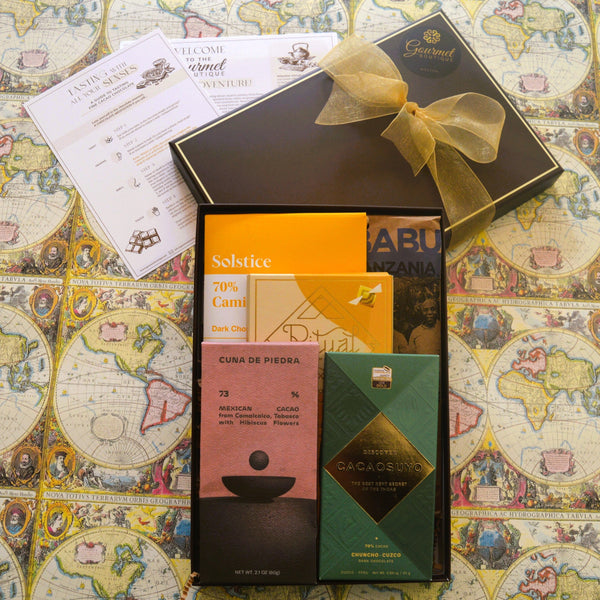 Dark Chocolate Taste Maker's Collection (5 Bars | Self Guided Tasting Guide)
As with wine, terroir, climate, and biodiversity are important factors in determining the unique flavors of artisanal bean-to-bar chocolate creations. Give the gift of dark chocolate that inspires a bit of foodie wanderlust. From South America, to Asia, Africa and India let the dark chocolate connoisseur on your gift-giving list discover the rich, diverse, deliciously dark collection of chocolates in this Dark Chocolate Taste Maker's Collection.
What's included?

5 Craft Chocolate Bars
Self-Guided Tasting Guide
Gift Box
Why Gourmet Boutique for Corporate Gifts?
Whether you are sending a single gift or 100+ shipments nationwide we would love to help you create a thoughtful gift for each recipient on your list. Our gift concierges are pros at creating custom gift solutions that will delight and surprise the recipient while matching your budget. We also offer a selection of treats that fit gluten-free, vegan and Kosher diets as well as some nut-free options.
Looking for an interactive gift that will stay in the minds of your recipients longer than the consumed deliciousness of a gift basket? Our team of food and wine educators are available to create a memorable experience for you and your guests. Click here to learn about our virtual and in-person tasting events and experiences.