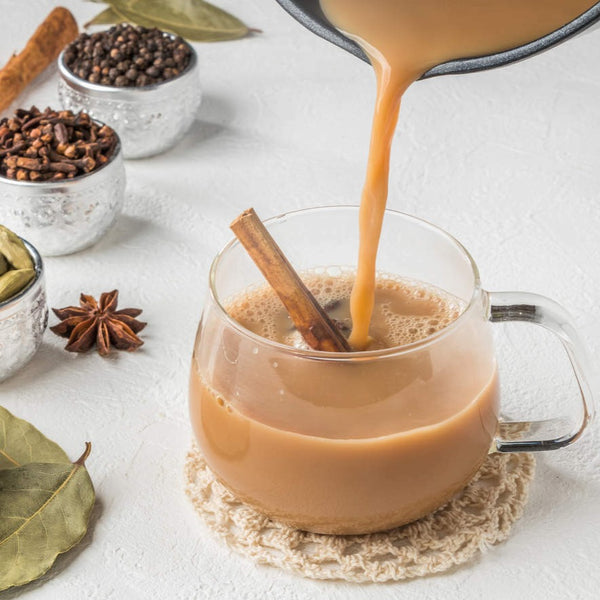 Tea and Chocolate Tasting: Spice of Life Tasting Experience (5 Bars | 5 Teas | Shipping Included)
As the weather cools and the holiday season draws closer we are delighted to introduce our newest tasting experience Spice of Life. In this 45-minute tasting adventure you will be guided through five tea and chocolate pairings that will tantalize your tastebuds while allowing you a brief reprieve from the demands of your daily schedule. The star of the show will be of course a carefully crafted artisan chai blend but several other teas and tisanes will grace the menu along with complementing chocolates for each brewed cup. Tantalize all your senses in this multi-sensory guided tasting experience. Spice of Life is sure to keep guests engaged through sensory exploration, blind tasting and a bit of food and beverage trivia to show off at your next culinary gathering. A feast for all your senses.


What's included?
5 Craft Chocolate Bars carefully curated to pair with the teas (20g-80g each depending on the craft maker)
5 Premium Tea samples
Tasting mat
Activities to promote audience engagement through sensory exploration (materials included)
A ten-dollar gift card to www.gourmetboutique.net
45-minute to 1-hour education session (by a Gourmet Boutique Food Educator)

 

included for over 12 kits at no additional charge
Ground Shipping is included
How does it work?
1.  Purchase the tasting kit.
2.  Contact us to select a time/date.  We have five educators on staff and can accommodate the majority of requests. 
3.  We will email you a Zoom login, or you can provide your Teams/Webex link.  Join, and we will guide you through a one-hour tasting experience sharing a bit of history about each craft maker, incorporating storytelling, humor, and audience engagement.  Our educators have over 15 years of experience and are food entertainment and team-building experts! 

Notes: Please allow one week to receive your kits before the tasting date.  The education tasting is about 45 minutes.  The quick ship program is also available at an additional cost (2-3 days lead time to host an event).