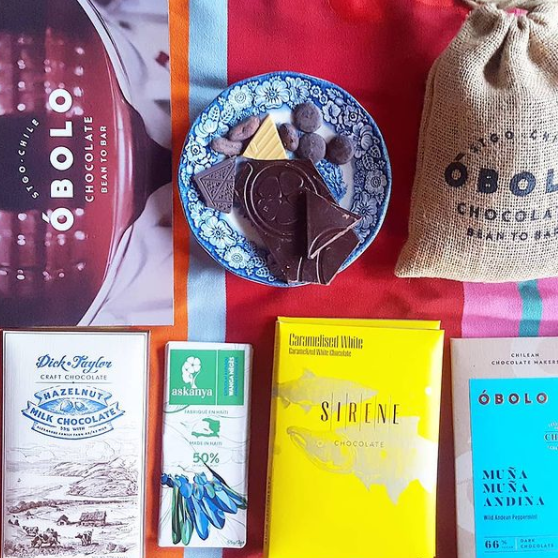 AFLAC Virtual Chocolate Tasting: European vs American Chocolate Virtual Tasting Experience (Shipping Included) - May 12, 2021 4pm EST
The endless dilemma continues - European or American Chocolate?  Who makes the better bar?  Which continent has the best makers?  In this 60-minute virtual chocolate tasting, we explore this dilemma in a fun way. 
Simple dual: 2 European makers vs 2 American makers.  Join us and game on!
This virtual experience was created in homage to our internet famous blog of over 8 years in which the debate continues to this date - want to join the discussion? post a comment here
This offering includes 4 contemporary chocolate makers that have been receiving many awards in the chocolate community for their creative flavor combinations as well as social impact their work has on the lives of cacao farmers and chocolate communities around the world.  
Private Chocolate Tasting via Zoom to be scheduled at a convenient time for you by Gourmet Boutique's own Anya Zelfond an industry insider working with craft chocolate makers around the globe since the early 2000s.
This offering is $60 per person/address with a 10 kit minimum purchase which includes a 60-minute educational session plus four ("full size") bars of chocolate - 2 from Europe and 2 from the US (shipping included to each recipient).  Great for virtual team events, team building, and corporate events.

Photo Credit: The visual was taken by our super talented educator Valerie B.