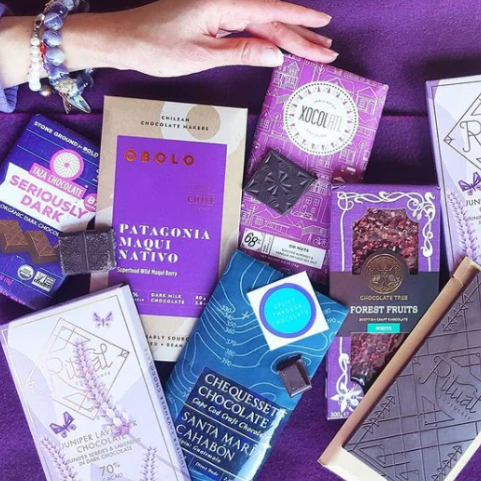 Virtual Chocolate Tasting: The Chocolate Mindfulness Package (4 Bars | Shipping Included)
In our busy day-to-day lives, it is often difficult to carve out a moment of calm to just be. Introducing our Chocolate Mindfulness Package. A carefully curated lineup of artisan makers will serve as the inspiration for the latest addition to our wellness-tasting packages. 
A calming yet engaging tasting session that will take the participants from one carefully crafted chocolate bar to the next. Each of our mindfulness tasting experiences will include a brief guided chocolate meditation that will allow guests to experience a whole new way of tasting. Tasting Chocolate of course but also show us how to take everyday pleasures such as a warm cup of freshly brewed tea, coffee, apple etc to center your mind and be in the moment. This is not a session that will ask you to stare deeply into the host's eyes while pondering how particular chocolate makes you feel. Instead in the brief chocolate meditation built into this dynamic and engaging session, your host will illustrate some new ways to enjoy chocolate and everyday foods to get maximum pleasure from each bite.
What's included?
4 Craft Chocolate Bars carefully curated (20g-80g each depending on the craft maker)
Tasting mat
Activities to promote audience engagement through sensory exploration (materials included)
A ten-dollar gift card to www.gourmetboutique.net
45-minute to 1-hour education session (by a Gourmet Boutique Food Educator)

 

included for over 12 kits

 

at no additional charge
Ground Shipping is included
How does it work?
1.  Purchase the tasting kit.
2.  Contact us to select a time/date.  We have five educators on staff and can accommodate the majority of requests. 
3.  We will email you a Zoom login or you can provide your Teams/Webex link.  Join, and we will guide you through a one-hour tasting experience sharing a bit of history about each craft maker, incorporate storytelling, humor, and audience engagement.  Our educators have over 15 years of experience and are food entertainment and team-building experts! 

Notes: Please allow one week to receive your kits before the tasting date.  The education tasting is about 45 minutes.  The quick ship program is also available at an additional cost (2-3 days lead time to host an event).