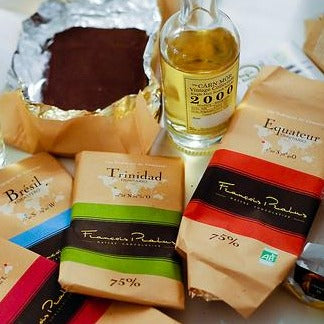 Virtual Tasting Experience: Whiskey and Chocolate Pairing Re-Invented (5 Craft Bars | 2 Whiskey Bottles | Shipping)
Gourmet Boutique has always been focused on surprising our retail and tasting room guests. With our wanderlust spirit in mind, we want to introduce our newest tasting experience. Chocolate and Whiskey may not be the first pairing you think of but one that is sure to delight. Elevate your next team-building event with this engaging, delicious, and unexpected pairing team bonding.  Sit back and relax with a glass of whiskey and a carefully curated collection of artisanal chocolate bars from around the globe. 

What's included?
5 Craft Chocolate Bars carefully curated to pair with the Whiskey (20g-50g each)
2 Whiskey 50ml Bottles: Whistle Pig 10 years and Glen Moray Single Malt Scotch Whiskey 
Tasting mat
Activities to promote audience engagement through sensory exploration (materials included)
A Ten-dollar gift card to www.gourmetboutique.net
45-minute education by a Gourmet Boutique Food Educators/Sommeliers included for kit/guests purchases of 12 kits at no additional charge
Ground Shipping is included for Whiskey/Chocolate
Please note all Whiskey is shipped directly from our Whiskey supplier.  Please allow for two weeks to receive your kits before the date of the tasting. Please inquire on whiskey/scotch/bourbon offerings as we do offer customization of kits.