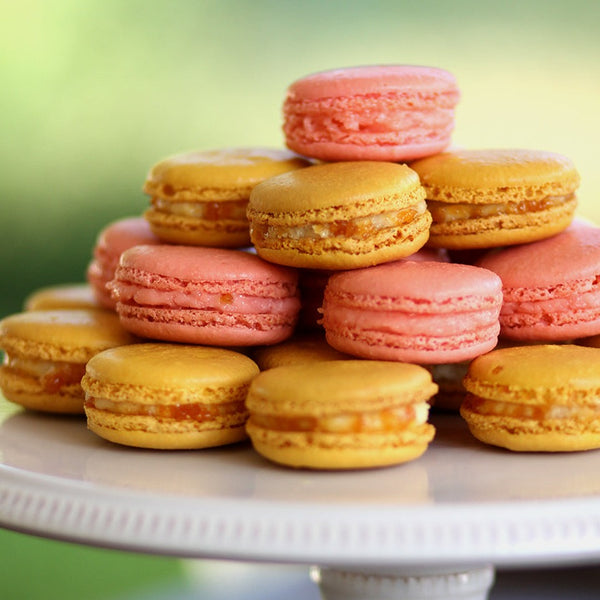 Virtual Tasting Event: Tea and Biscuits au Francais (5 Teas | 6PC Macaron | Nougat | Cookies | Chocolate | Shipping Included)
Join us for our newest tasting adventure featuring some of our favorite afternoon tea blends from a collection of award-winning tea houses seamlessly paired with a complementing collection of French sweets. From delicate custom baked French macaron to chewy Provencal honey nougat with a bit of shortbread sprinkled in this tasting kit we hope every guest will find the perfect complement to a well-balanced, comforting cup of fine, full leaf brew. Our food educator will guide the guest through an engaging exploration of how we as humans' taste through blind tasting activities, as well as explore the history and traditions of some of the featured food groups. We can't wait to share the history behind the world's most luxurious and stylish treat with you and your guests. Join us for a delicious and aromatic feast for the senses.

A great way to bring the team together for a delicious tasting experience that will be a welcome change to the endless virtual work meetings.  Fun and delicious hour!
What's included in this experience?
5 Artisan Teas Samples 
Six pc Macaron Box (assorted flavors and Gluten-Free)
Block of Traditional French Honey Nougat
Shortbread Cookies
Choice of Craft Bean to Bar Chocolate or Caramel

Tasting mat
Activities to promote audience engagement through sensory exploration (materials included)
A ten-dollar gift card to www.gourmetboutique.net
45-minute to 1-hour education session (by a Gourmet Boutique Food Educator)

 

included for over 12 kits

 

at no additional charge
Overnight Shipping is included
How do logistics work?
We ship directly to recipients and take all the headaches and logistics off the organizer's plate.  
Commonly Asked Questions:
What is a French macaron?

 

A French macaron is a sweet meringue-based cookie made with egg whites, sugar, almond, and flour filled with either buttercream, jam, or chocolate ganache.
What are the ingredients in each macaron? Ingredients: almond flour, butter, sugar, white eggs, fresh fruits, fruit puree, heavy cream, cocoa, Pistachio, coconut, coffee, vanilla natural, Natural lavender emulsion, natural jasmine Emulsion, natural rosewater flavor, natural lychee flavor, Natural crème

 

brulee

 

flavor,

 

nutella, natural cappuccino flavor, natural orange blossom flavor, peanut butter, honey, matcha green tea, salt, pumpkin mix, cinnamon, chestnut, sesame, food coloring FD & C.
What is the size of your macarons? Our macarons are approximately 2 inches in diameter.
For how long will your macarons stay fresh? Outside of the refrigerator our macarons stay fresh for up to 12 hours.  In the refrigerator . . . our macarons stay fresh for up to one week.  In the freezer . . . Our macarons stay fresh for up to 6 months (provided they are kept in a closed container and not exposed to humidity).
Are your macarons Gluten Free? Yes, all of our macarons are

 

gluten free!
Do your macarons have trans fats? Our macarons are trans

 

fat free!
Do your macarons contain nuts? Yes, our macarons made with almonds.

 

Also

 

we use peanuts, hazelnuts and other nuts in the bakery
Where are your macarons made? We are proud to say that all our macarons are made in NYC and are shipped to Boston daily.
Where do you source your ingredients? We are proud to say that we have collaborated with the same authentic French bakery for over ten years. All of our ingredients are sourced from American purveyors!
We love what we do. Let's bring our passion for fine food and storytelling to your next team-building event!