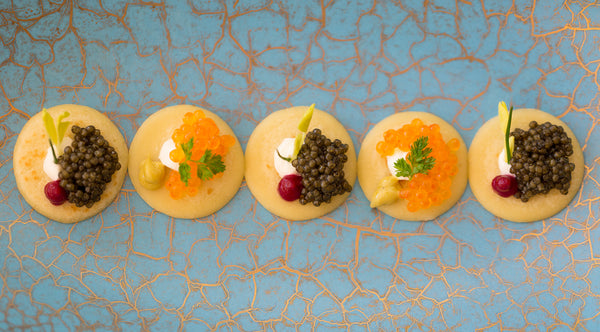 Private Virtual Caviar Tasting Experiences | Corporate Events | Unique Corporate Team Building Experiences
Where does our caviar come from?
Gourmet Boutique works closely with producers Dom Petroff/Petrossian of Paris and Black River Caviar of Uruguay to ensure the quality and integrity of our caviar. The caviar is sourced from sourced from eco-friendly farms throughout the world (France, Bulgaria, Israel, Poland, USA and Uruguay). 
Why Sustainably Harvested Caviar?
We love caviar and would like to contribute to the world wide effort of insuring this prehistoric fish, which Charles Darwin called a "living artifact" will thrive for many generations to come. Enjoying sustainably harvested caviar will help in allowing the fish to rebuild their stocks in the wild.
What is the cost of our Virtual Caviar Experience?
Our most popular Caviar experience is the "Caviars of the world" which incorporates:
White Sturgeon (Royal)
Kaluga Hybrid (Daurenski) Caviar 
Siberian Sturgeon (Baeri) 
Blini - 16 PC
Overnight Shipping
45 Minute Educational Storytelling Session
We are also happy to custom build a menu to fit your taste and budget.
Who hosts our Virtual Caviar Events and Tastings?
Virtual Caviar Tastings are hosted by Anya Zelfond, Caviar Expert and Food Educator, and her team of highly knowledgeable educators each of who have been in the gourmet food and caviar industry for over 15+ years! Our reviews speak to our passion for unique and entertaining virtual events. Our Virtual Caviar Tastings are perfect for team building, corporate client events, or festive family occasions.  We can also incorporate Wine or Champagne for a truly special event. 
What happens on the day of the Virtual Caviar Experience?
The tastings range from forty five minutes to an hour.  With storytelling by Anya about the origins of caviar, the industry, its colorful and a tad bit illicit history. This engaging and entertaining event will be sure to leave your guests showing off their newly acquired knowledge of caviar's diverse history, turbulent present and hopeful future. Best way to learn is through our taste buds. We hope to taste with you soon!
This is a super fun way to connect over a food everyone loves – CAVIAR!

Chat with us for any special request or call/text (781) 367-5629 to speak to our Gift Concierge!