Marzipan fruits and shapes on display, pretty as they are, never appealed to me. Even as a kid, I found their taste too sweet and their texture too gummy. I put marzipan out of my mind, and did not truly encounter it again until I started working at Gourmet Boutique. We sell a German marzipan, from Lubeck, and at the urging of my boss, I decided to give marzipan a second chance. A bite of Niederegger plain Weissbrott was a spark that set fire to a passion for Marzipan in me that I could have never expected.

There are many types of Marzipan from many parts of the world, this article in particular is about my love for German Marzipan, there will be discussion of other Marzipan's in future articles.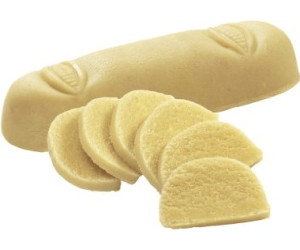 True Marzipan is an almond confection, with a warm flavor and texture like a doughy bread roll.  Good high quality marzipan will have a strong almond flavor with a creamy touch of vanilla, without being overly sweet.  This type of Marzipan is  difficult to find in the states, where any molded sugar/nut product can be labeled Marzipan. Typical American marzipans contain between 20 and 30 percent almond paste, though many contain less than that. In Europe, many circles do not consider anything with less than 45 percent almond paste true Marzipan. In Lubeck, Germany, they guarantee that any Marzipan has at least 60 percent almond paste, though many finer confections offer much more. Oftentimes these are dipped in a thin layer of German chocolate.

It is said that Marzipan was invented in Marzipan was invented in the walled town of Lubeck, Germany, during a siege, when all the towns crops were used up and they had to rely on their reserve stores of almonds. A baker, having no flour, no eggs, and no yeast, used the ingredients he had to make the heartiest food he could. The combination of almond paste and sugar is still reminiscent of bread, and to this day Marzipan in Lubeck is still sold in loaves.
 As we approach the holidays, one of the most popular Marzipans we sell is the Glucksschwein, or Good Luck Pig. In Germany, the pig is as much a symbol of the holiday season as pine trees or stockings; found on decorations and Christmas cards as often as their counterparts. This comes from ages past, where farmers counted themselves lucky if they had done well enough that they could keep a pig for the winter.  Marzipan's thick consistency makes it perfect for molding and shaping, and German pastry chefs have sculpted it into pigs for almost as long as they have been making marzipan itself. 

If you're in the mood for Marzipan, skip the American stuff this year, and find some real quality almond confection. Whether it's dipped in chocolate or prepared plainly, we carry a wide variety of excellent grades of Marzipan. So count yourself lucky and chow down on a Glucksschwein this season.