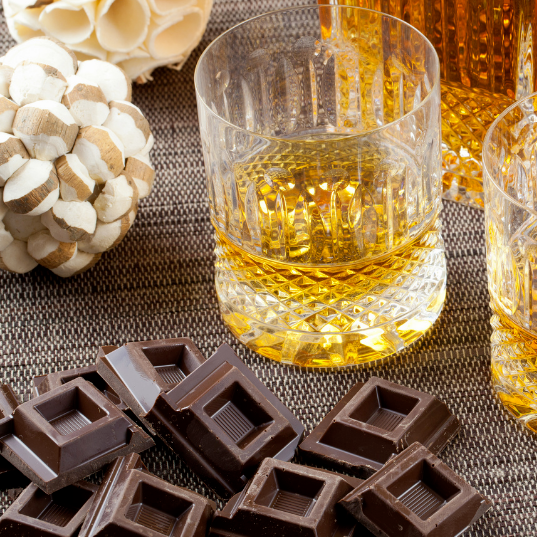 Virtual Tasting Experience: The Ultimate ST PATRICK'S Whiskey and Chocolate Experience (5 Craft Bars | 3 Whiskey Samplers | Shipping)
Introducing our newest tasting experience – Whiskey and Chocolate! 
This St. Patty's Day or any other day – don't worry about searching for the four-leaf clover for good luck… We've got something even better in store for YOU. Presenting the at-home St. Patrick's Day Whiskey Experience! Available for a limited time, don't miss this unique morale-boosting team-building experience.
Taste for yourself how many new flavor experiences one can create in this pairing adventure with the help of our seasoned team of food educators.
What's included?
5 Craft Chocolate Bars carefully curated to pair with the Whiskey (20g-50g each)
3 Whiskey Samplers 50ml: Tullamore D.E.W The Legendary Irish Whiskey 50ml, The Busker Single Malt Irish Whiskey 50ml, and Bushmills Triple Distilled Irish Whiskey 50ml
Tasting mat
Activities to promote audience engagement through sensory exploration (materials included)
Ten dollar gift card to www.gourmetboutique.net
45-minute education by a Gourmet Boutique Food Educators/Sommeliers included for kit/guests purchases of 10 kits at no additional charge
Ground Shipping is included for Whiskey/Chocolate (Whiskey Ships Separately)
This virtual team building experience is the ultimate in unique virtual team building activities available at Gourmet Boutique