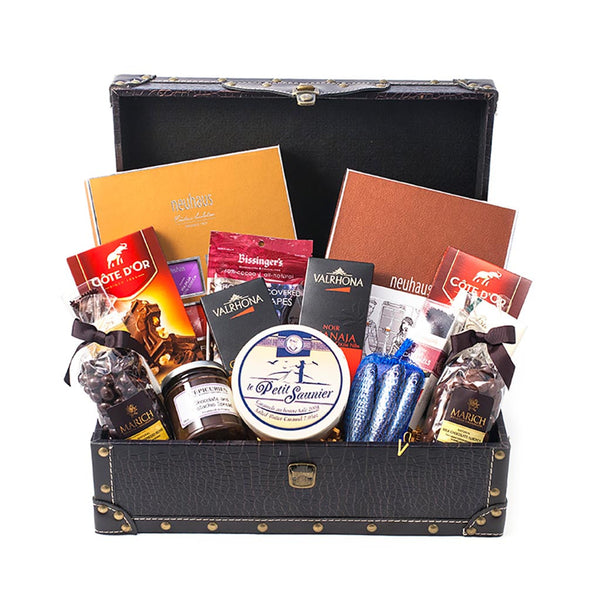 The Grand Collection Gift Trunk
A vintage style gourmet gift trunk houses a collection decadent gourmet treasures gathered from around the world.
Cote d'Or Almond Dark Chocolate Block - A rich, dark chocolate block generously sprinkled with whole, roasted almonds.
Cote d'Or Hazelnut Milk Chocolate Bark - A creamy, milk chocolate block generously sprinkled with whole, roasted hazelnuts.
Neuhaus Whisky and Spirits Chocolate Assortment - An elegant faux leather assortment box of chocolates created by the master sommelier to be paired with favorites includes a pairing guide.
Neuhaus Carre Origins Assortment - This family of Carr's consists of four members, each representing a different origin and offering a specific taste experience that characterizes the terrain of the cocoa bean. It is a unique chocolate journey across the equator, traversing Sao Tom', Tanzania, Ecuador and Papua New Guinea.
Bissingers Wine Grapes - Decadent semi-dehydrated grapes soaked in Shiraz wines and enrobed in rich dark chocolate.
Valrhona Guanaja - Elegant, deep and dark (70%) chocolatey taste of Guanaja, complemented and prolonged with finely roasted cocoa nibs is a pure indulgence.
Valrhona Caramelia - Soft, rich and voluptuous with crunchy pearls this decadent milk chocolate bar has tantalizing notes of caramel and salted butter.
Butlers Irish Whiskey Bar
Bissingers Merlot Caramels
Bissingers Chardonnay Caramels
Chocolate Espresso Beans in Gift Bag
Dark Chocolate Pistachio Spread
Le Petit Saunier Caramels
Milk Chocolate Almonds in Gift Bag
Michel Cluizel Sardines
The gift is packaged in a keepsake chocolate treasures box perfect for keeping your chocolates safe and away from other hungry eyes.