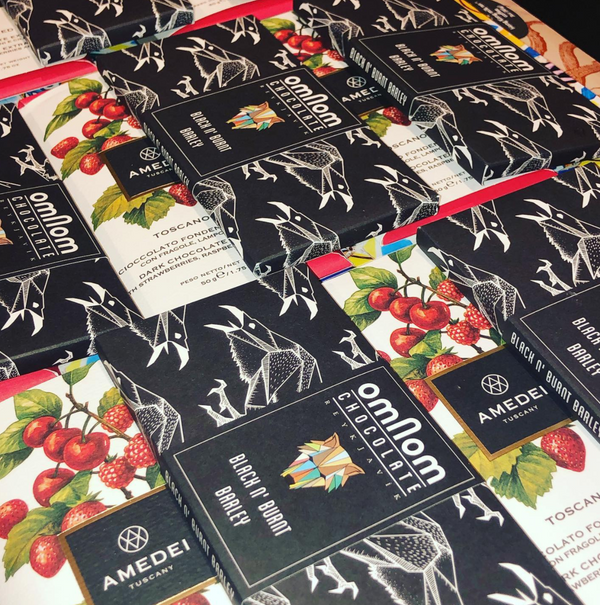 CUSTOM Virtual Chocolate Tasting: THE BEST CHOCOLATE IN AMERICA Experience (5 Bars with Shipping Included)
We are thrilled to see many of the makers we have been working with for years show up on Friday's Food and Wine article on best chocolate makers in America. The Best Chocolate in America
Next time you are looking for a fun, engaging, and educational gathering to show your appreciation for your team look no further. Please check out our newest virtual tasting experience.  We love bonding with our team over chocolate - okay okay - it's our job. Perhaps a guided hour enjoying a carefully curated portfolio of chocolate makers with you and your team will boost the team's morale and hold them over until you can gather for dinner or a drink in person.

Tasting collection built around the best chocolate makers in the US. Don't take our word for it. They are here on the Food and Wine list. Can't wait to taste with you soon and share our passion for ethically sourced and sustainably harvested chocolate.
Private Chocolate Tasting via Zoom to be scheduled at a convenient time for you by Gourmet Boutique's own Anya Zelfond an industry insider working with craft chocolate makers around the globe since the early 2000s.
This offering is $65 per person/address with a 10 kit minimum purchase which includes a 45-minute educational session plus four ("full size") bars of chocolate (shipping included to each recipient).  Great for virtual team events, team building, and corporate events.  Quick ship program also available with an additional cost (3 days lead time).  Add additional bar at 50% off retail $5.00 per bar for a mystery tasting interactive activity.
INCLUDES WARM WEATHER SHIPPING