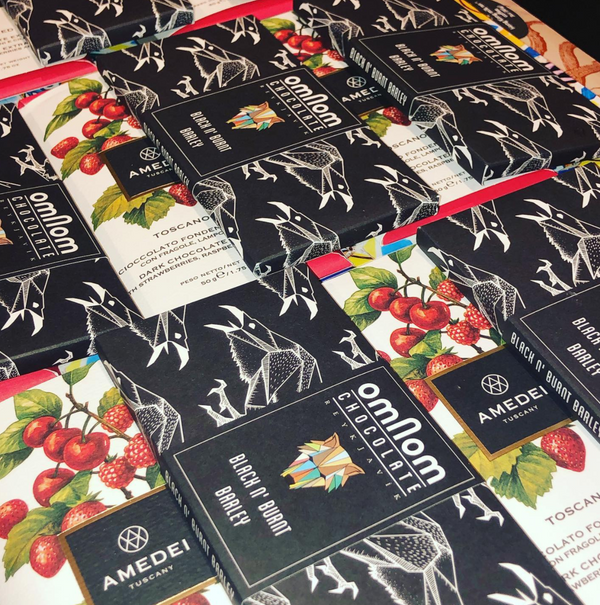 Church & Dwight Custom Event - Virtual Chocolate Tasting: Fun and Unusual Craft Makers Collection
Explore the imaginative and whimsical flavors dreamt up by world-renowned chocolate makers.  Want to experience a Gin and Tonic Bar from Spain?  Pop-rocks in Milk Chocolate from the UK?  Or maybe white chocolate that looks like a dark chocolate bar? Well - this tasting is for you!
This offering includes contemporary chocolate makers and chocolatiers.  These artisans have received many awards in the chocolate community for their creative flavor combinations and their work's social impact on the lives of cacao farmers and chocolate communities worldwide.
What's included?
 4 unique bars

1 classic milk and 1 classic dark

dentelle cookies

2 tasting activities  and one additional chocolate bar

45-minute guided tasting experience

Tasting Mat 
$10 Gift Card to www.gourmetboutique.net
How does it work?
1.  Purchase the tasting kit.
2.  Contact us to select a time/date.  We have 5 educators on staff and can accommodate the majority of requests. 
3.  We will email you a Zoom login or you can provide your Teams/Webex link.  Join, and we will guide you through a one-hour tasting experience sharing a bit of history about each craft maker, incorporating storytelling, humor, and audience engagement.  Our educators have over 15 years of experience and are food entertainment and team-building experts! 

Notes: Please allow one week to receive your kits prior to the date of the tasting.  The education tasting is about 45 minutes.  Quick ship program also available at an additional cost (2-3 days lead time to host an event).